For All Ages
Monthly Communion Service
On the second Wednesday of each month at 12noon a group of parishioners meet together in the Church entrance porch, or Church hall in Winter, for a short service of Communion with a reflection and shared items of prayer.
Weekly Monday Evening Reflective Service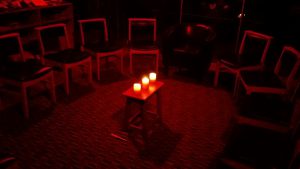 Each Monday evening we meet in the Church entrance porch for half an hour of quiet music, Bible reading and space to think. Designed to be as relaxing as possible, this service is ideal for the busy, the stressed, those of us who want to read the Bible deeply but struggle to focus alone or those of us who are just tired out and want to be somewhere comfortable to let it all wash over them. Introvert friendly. Come and be blessed.
Beacon Social Gatherings
There are a range of opportunities during the year for Church members to come together and invite friends and parishioners to celebrate Special Occasions with us, like Harvest and St Margaret's day. Each year often involves a Bring and Share meal, a BBQ, a summer Picnic and an extra performance for all of the January Pantomime.