Marrying @ St. Margaret's – A bride's experience
Marrying @ St. Margaret's – A bride's experience
St. Margaret's may not have that 'picture book' look about it, but when it comes to weddings it's a wonderful place to get married in and the help and guidance given before and on the day by ministers who listen and care makes a real difference.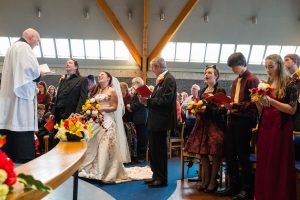 "Our wedding was a bit unconventional. We both had big families and I was widowed before so I had an extra family in the mix too, plus we had a large group of friends….. there were 9 Bridesmaids including my daughter, multiple Groomsmen including my son, and more than one dad to walk me down the aisle.
St. Margaret's was perfect: with the Church Hall literally next door we had a reception venue big enough for us and the Church seats around 250. A number of our guests had disabilities and the Church is fully accessible with an easy ramp, and disabled toilet available as well as standard toilets and babychange area in the hall next door.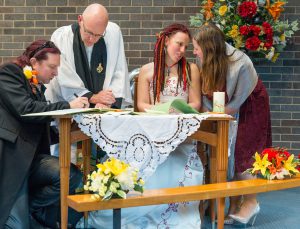 Also, the sound system really helped when it came to our music choices and the Church is lovely inside: warm and welcoming, with colourful banners, a children's area and enough space to take photos if it's wet (this was important for us as our wedding was in October!) We loved being able to make the day as colourful as we are, but also saying the traditional vows in Church and being prayed for was very moving.
St. Margaret's is a very special place – and not just because it's my Church! Our wedding was a wonderful time of celebration and we felt really blessed."