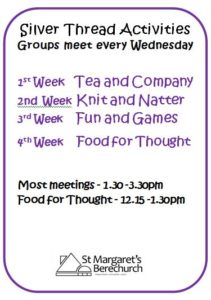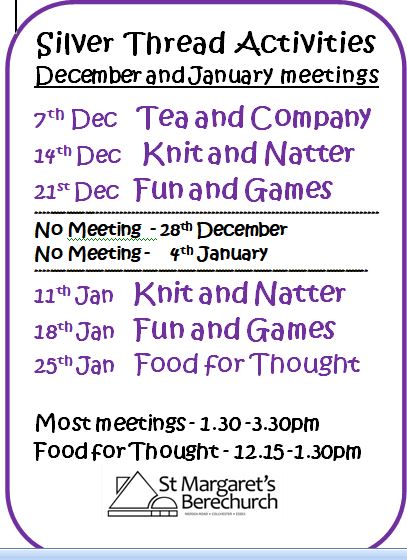 Messy Church & Little Lambs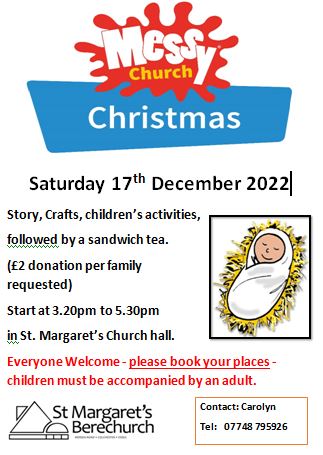 Little Lambs
Our Little Lambs group for parents and pre-school children meets every Monday in term time from 9.30 until 11am in the church hall and costs £1.50 per family. The morning begins with an hour of free play and exploration of our resources and equipment: a play dough table; a craft table; small world animals and people; a home area with table, chairs, cooker together with play food and plates; ride on toys; a small slide, rocker and tunnel; and a small world garage and cars. We also have a baby area with a selection of baby toys.
At about 10.30 we tidy up and sit down for snack time. We offer a nutritious snack of cheese and fruit and/ or biscuits if preferred for the children and a hot drink for adults.
The session concludes with a short carpet time during which we share a story and sing rhymes. Some of the stories may be from the Bible.
We would love to welcome you to Little Lambs. Everyone is very friendly: it is a happy place on Monday mornings!
Messy Church
We are just getting our Messy Church meetings going again after lockdown.
Messy Church is most suited to Primary School and Pre-school age children. Children must be accompanied by an adult: we ask for £2 donation for each family to help towards the costs. The session starts in church with a story and a song. We then move into the hall where children can choose from lots of crafts (which the children take home) and other activities. We finish with a sandwich meal for everyone.
Most recently we have been offering our Messy Church sessions from 11am until 1pm.
Please watch out for posters advertising date and time of the next meeting.
Christmas Services at St. Margaret's